Types of Architectural Plans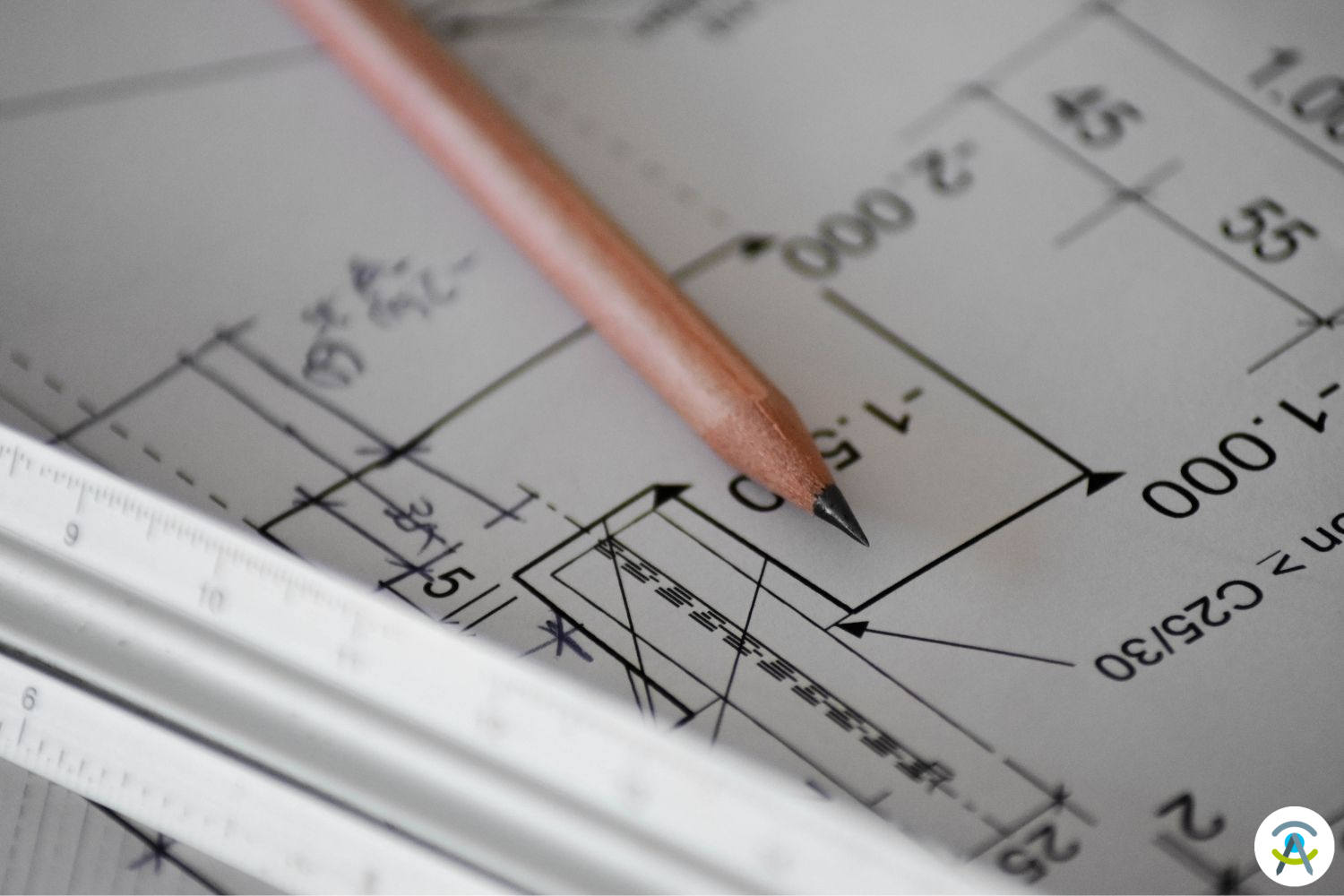 There are various types of architectural and building plans that fall into different categories, and are used for different purposes in designing and constructing buildings. Depending on your specific needs and project type, you may be looking to have different kinds of plans drawn up, from floor plans, site plans and elevations to technical drawings.
If you're building a new house, or planning an extension or loft conversion, you may need to submit a set of planning designs with your application for planning permission or to obtain a lawful development certificate. You may also need to obtain building regulation approval, which may require more detailed drawings concerning the construction works and methods and building systems. Depending on your project, you may need different types of plans, from existing and design floor plans, to elevations, cross-sections, site and location plans, and more. So, what are the different types of drawings and why do you need them?
Floor Plans
An essential part of any architecture project, floor plans depict the layout of the building's interior and rooms from above, seen from a bird's eye view. Floor plans can be drawn up for whole buildings, or just a single room of storey, and vary in detail and the information they include. For projects for an existing building, you will need both existing floor plans or as-built drawings to show the current state of the building, as well as design floor plans to show your proposed developments.
Plans can also differ in their dimensions, and serve different purposes. 2D floor plans indicate the technical aspects of the space such as the measurements and surface areas, load-bearing or other types of walls, the direction of windows and doors, and other information the contractors will need to implement the project. If they include enough detail, they can be used as a basis for the building plan. Some floor plans may include furniture and fittings as part of the design, particularly to help show the capacity for circulation in the spatial layout.
Thanks to more recent technology, another possibility is to have the designs rendered in 3D. Rendered floor plans help you envision the space and design elements, view them from different angles, and include furnishings and décor to give you an idea of the finished space. Many architects create 3D renderings to offer their clients the advantage of being able to see in more detail what the future space will look like and imagine living there. This is particularly useful if you are looking to carry out a remodel or redecoration project, as with a 2D plan it's more difficult to be able to visualise how the new changes and decoration will interact with the rest of the space.
In order to make a 3D floor plan, you must have first had the 2D plans drawn up by an architect. They will then use the 2D plans to create the 3D plans, using specialised computer software. Thanks to modern technology and architectural tools, you'll be able to view the design from any orientation or perspective, even cross-section of your property or a 360-degree view of the outside of the building as well as the inside of the property. More and more architects are now offering these services to their clients, even rendering a full model of the proposed space that allows you to "walk" around the inside and get an idea of the space's character and features.
Elevations
Elevations refer to plans that show the vertical layout of your building, and can also be drawn up in two dimensions or rendered in three dimensions. Exterior elevation plans illustrate the building's façades. 2D elevation drawings will show the parts of the building as seen from a particular direction, and are usually produced for the different directional views, generally four sides of the building.
Interior elevations are similar, and can show measurements of a room as well as where different built-in fixtures and elements will be placed. 3D interior renderings are commonly used for interior design projects to help you visualise a furnished space, and are often highly detailed to illustrate the full decor and positioning of different design elements and fixtures.
Site Plans and Location Plans
Similar to floor plans, a site plan is a scale drawing that shows the layout and full extent of the site for a development, whether just a single house or larger developments such as a block of flats. Like a floor plan, site plans can also be rendered in 3D to give you a better idea of the finished effect. Your planning authority may also require location plans as part of your planning application, in addition to a site plan. Location plans illustrate the proposed project situated in its surrounding context, including buildings or roads on adjoining land and the boundaries of your site.
Construction Drawings
Once you're happy with the design, and have obtained planning permission if necessary, the next step will be to execute it. Working drawings or construction drawings refer to drawings that are part of the information provided to contractors who will be completing the construction works, and serve to represent what is to be built and how. Construction or tender drawings are also part of the documentation necessary for the tender and contracting process when you hire a builder, allowing them to accurately price the work, and form a legal part of the agreement between employer and contractor.
While drawings for planning and concept design are more simplified and are designed to communicate the scope of the works and general appearance and features, construction drawings are much more detailed. Precise, well-coordinated working drawings are furthermore important to ensure your project is executed smoothly without confusion and delays. Construction drawings offer a graphic representation of the works to be carried out, including detailed dimensions and the arrangement of different components. The drawings are complemented by the specifications that define the building materials, construction methods and techniques.
Construction drawings are usually comprised of a set of floor plans, sections and elevations to represent the entire building. For many projects there will also be a separate set of trade drawings for the electrical and plumbing aspects for example, as well as installation drawings detailing how elements such as ventilation or heating systems will be positioned and installed.
Today, many architects commonly create construction drawings using computer-aided design or CAD software, in both 2D and 3D. More recently, Building Information Modelling (BIM) software has also become a valuable tool to manage digital information concerning a building, and facilitate processes from design and construction to installation and operation.
In need of plans for your next building project? Whether you're looking for planning or construction drawings, a simple floor plan or 3D renderings with the latest technology, find the best expert near you to design your building or renovation project. For more information, get in touch with an architects today at find-my-architect.com!