Retail Design and Architecture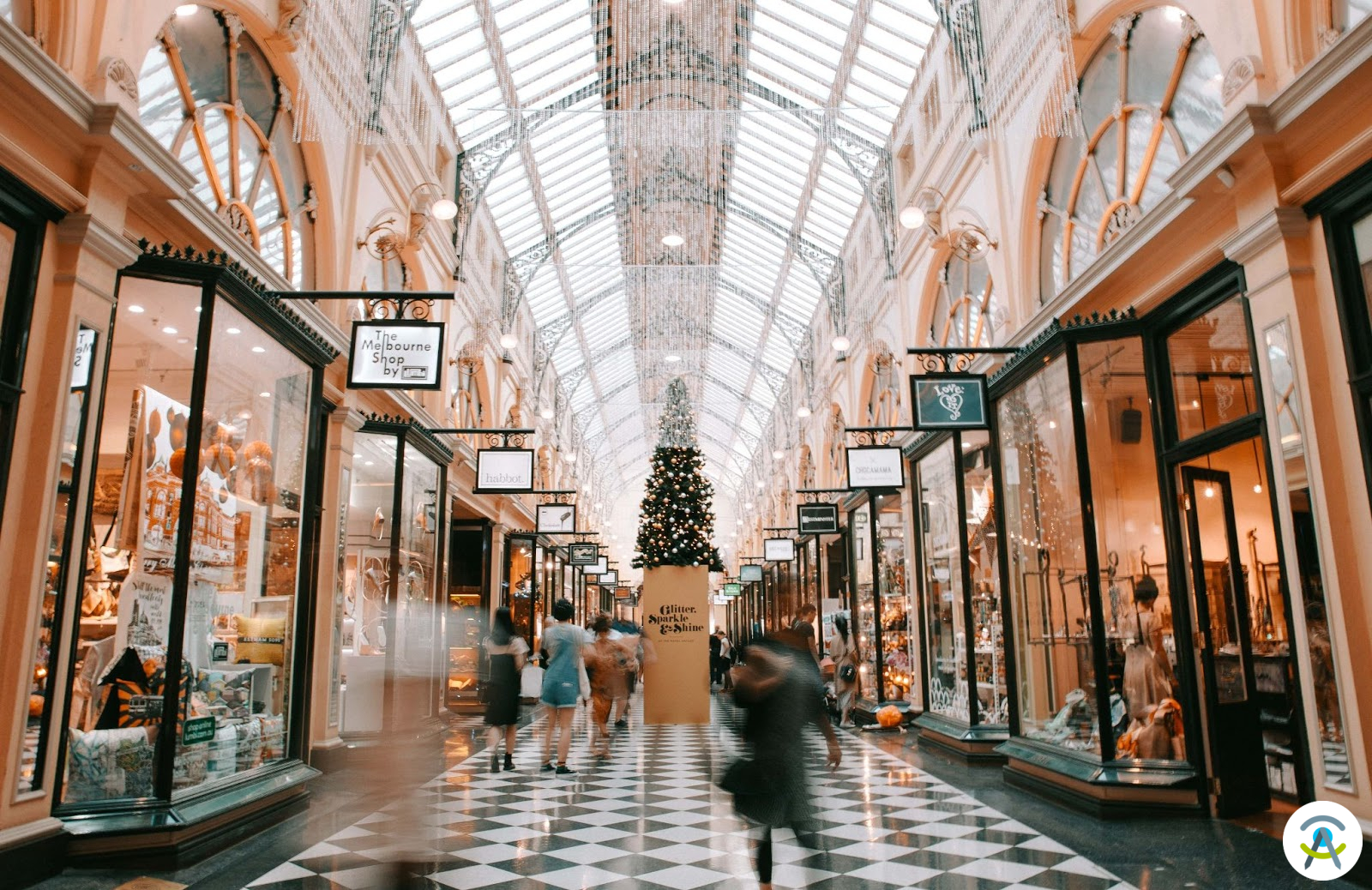 Are you planning to start your own business and interested in how to design your retail location? Ready to move an online business to a brick-and-mortar store, or need a new space for your growing business?
Retail is a sector that's seen considerable changes recently as business owners seek to respond to new consumer habits, and the field of retail design and architecture has had to evolve as well. How can you design your retail premises to appeal to your target audience?
That's where an architect comes in. A specialised retail architect knows what to look for when designing a space for a business, to offer you optimal spatial layout and flow for your customers and employees, the best ways to show off your products, and a bespoke style that reflects your brand image.
Need some inspiration? Here are some architect-designed retail spaces to give you ideas for your dream store.
This chic luxury shoe shop was fitted out in a style that exudes old-Hollywood glamour. The store was designed by Federico Schilling, an architect specialised in luxury retail interiors and head of the London-based practice Flair Studio. The composition of colours and materials and stylish furnishings were carefully chosen to reflect the brand's luxury image, and highlight and showcase the quality of the store's products at first glance. Have a retail design project in London? See more of the architect's work and get in touch here.
Architect Federico Schilling is also behind this small men's shoe shop in London. Designed in a completely different style as in the example above, the store is also adapted to the brand's image, with a more masculine aesthetic that also features retro elements. The unique wall shelving offers the perfect way to showcase the store's products mixed with decorative pieces, maximising the available space.
This striking retail space was designed by the practice SASI Studio, led by our partner architect Francesca Silvi. The eye is immediately drawn to the distinctive forms and texture of the wood ceiling, from which two massive columns project into the room down to the floor, integrated into the architecture of the sales counter. Based in London, the practice specialises in designing high-end commercial and housing developments. Learn more about SASI Studio and their work.
Car dealership design is a specialisation in and of itself, with specific challenges involved. This sleek space was created by our partner architect Jason Goldring, a specialist in automotive retail design. The building offers plenty of space to display the cars, and the neutral colours chosen for their surroundings creates an optimal backdrop to stage the vehicles. Based in Belfast, Jason Goldring looks forward to discussing your retail projects in Northern Ireland and throughout the UK!
Architect Jason Goldring also designed this Porsche dealership with a bold exterior. The building stands out for its curved façade, making it just as special as the cars within. Discover more of his work and get in touch here!
Here we see a design of a shop interior for the clothing retailer Bershka, by the architect Keith Winter in London. Extensive planning goes into designing such a retail space, in particular taking care to ensure optimal circulation to allow customers sufficient freedom to move about the store. The spatial layout is also designed to ensure that fashion items are staged in a way that promotes sales.
London-based architect Michael Chomette is responsible for designing this contemporary coffee shop. The brick façade features a large glass window which allows a clear view of the interior and the retail goods for sale, drawing customers in. The clean, minimalist design optimises both wall space and the floorplan to allow both customers and workers space to move about, and provides shelving to display products in a stylish, organised way. Looking to fit out your retail or food service business? See more of the architect's work and get in touch to discuss your project here.
Vera Giannatelli and the London-based architectural studio Rawdesign Services Limited designed this Tesla dealership. Here, too, a glass wall façade allows the retail space to showcase its products and promote its brand even from the exterior, while creating a stylish look in line with the brand image.
View more of the architect's commercial and residential designs here.
Need more inspiration? Ready to create a bespoke space for your retail business? Find architects near you specialised in commercial and retail design at www.find-my-architect.com, and get in touch for free!