Renovating Your Home On a Budget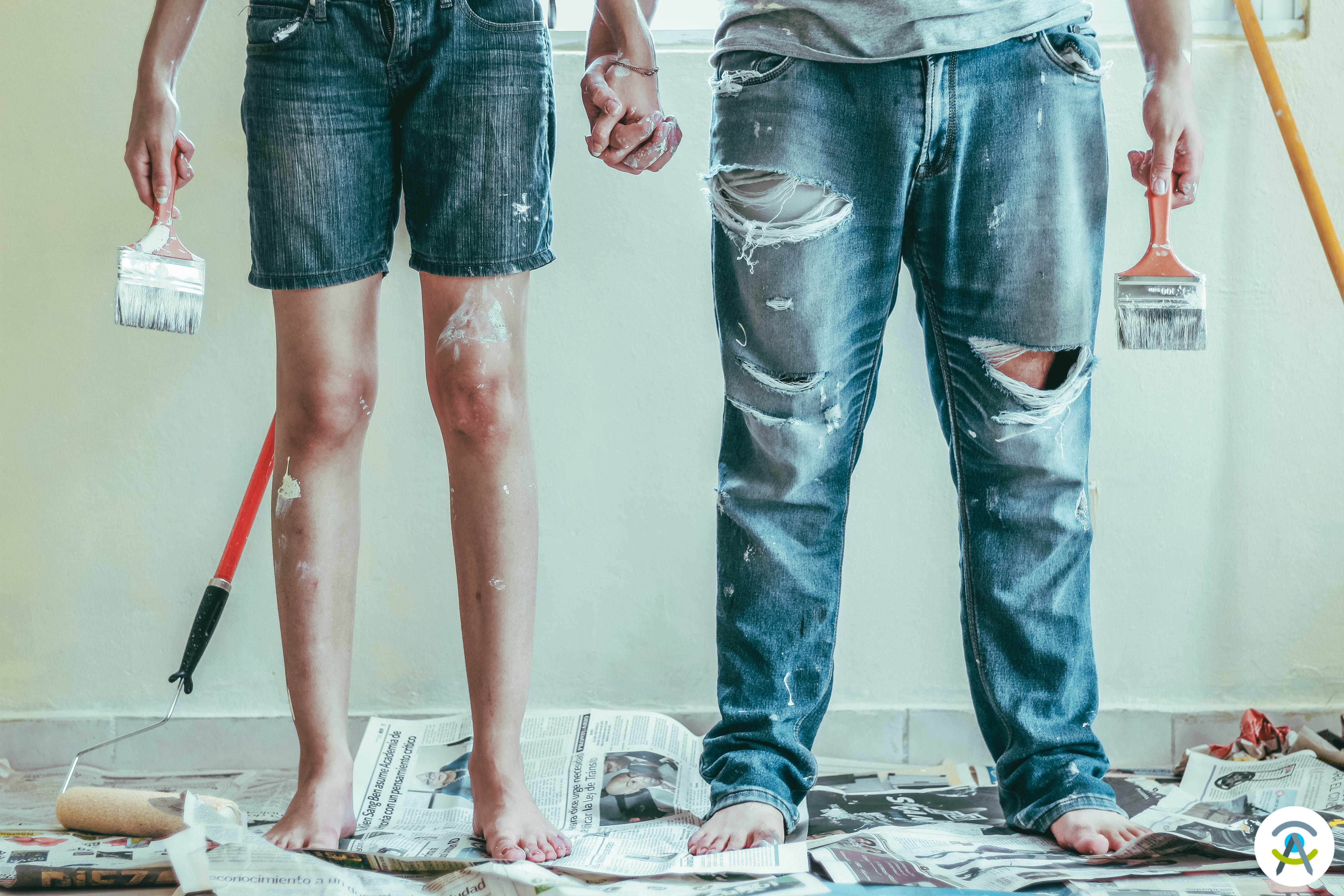 Planning a home renovation project? While renovating your home can be expensive, there are many ways that you can keep costs under control, and carry out your renovation without breaking the bank. Here are a few tips to help you renovate on a budget.
Where to Start
One of the first steps of your renovation project will be determining the extent of the works involved, whether it's just a bit of cosmetic work and remodelling or a full refurbishment. Before you start looking at ways you can renovate your home without over-spending, a good place to start is to simply to tidy your property up. You might be surprised to find out the extent to which minor maintenance can help refresh the interior and exterior of your property, and in any case this is something you will have to do before you commence the renovation work itself. Tidying up your garden and de-cluttering your home's interior gives you a clean canvas to work with and offers the opportunity to better visualise how you'd like to fix up the space and what needs to be done. As this is a step you can do on your own, it's completely free, and can give you a clearer idea of where to go with your home improvement project.
Next, determine your priorities for your budget and think of making the changes that will make the biggest impact for the smallest financial expenditure. Of course, any repairs that concern health and safety should take priority, such as solving damp, removing mold or asbestos, or any structural repairs or restoration. Making sure your home is structurally sound and free of any health hazards is essential for your quality of life as well as your investment in the property. For urgent essential repairs, there may potentially be home improvement or repair grants or financial assistance available to homeowners – check with your local authority to see it you might qualify for available assistance. The nature of renovation work involved will naturally have an effect on how you establish your budget for your project, depending on whether your property requires significant refurbishment or simply a cosmetic makeover.
Cosmetic Remodelling Ideas
One of the most notable changes you can make to give your house a makeover is to repaint the interior spaces of your home. For most straightforward interior paint jobs, this is a job that you can carry out yourself to save money, instead of hiring a professional. All you need is the paint itself, time, and patience. If the walls are in poor condition and need more than a coat of paint, you can also add a finishing coat of plaster for a relatively low cost.
Another low-cost change with a big impact that you can make to your home is to replace the flooring. Keep in mind that different types of flooring require different installation processes, and may require professional installation, in particular for materials such as hardwood and tile. Even materials such as laminate and vinyl require precise measurements and cutting as well as specific tools, so make sure you have the necessary skills, time and equipment before taking on a DIY flooring project. However, there are certain parts of the job that you may be able to do yourself more easily, such as tearing up old carpet or flooring. In some cases, you ou might also discover that
Cosmetic changes such as new wall and floor treatments will be immediately noticeable to potential visitors, and are a great way to make the property's resale value increase at a relatively minor expense. Replacing the lighting is another way to freshen up the space: a well-lit space is immediately a more agreeable place to spend your time, and upgrading outdated fixtures and lightbulbs can also be a simple way to make the property more energy efficient.
Repair vs. Replace
There are other ways you can stretch your budget by making other subtle alterations to your property. If you can't afford to completely replace your kitchen cabinets for example, consider refinishing or repainting them, or even simply replacing their hardware with something more modern to give your kitchen a makeover. When renovating your home's exterior, if you don't have the financial means to repaint the whole of the exterior, you can still improve your house's curb appeal just by repainting the trim and accents of your property. In a similar vein, instead of completely replacing the fixtures and fittings in your property, consider if they could be repaired instead. This also saves you the cost of having to dispose of the old fittings, which can be surprisingly expensive in some cases. Repairing fixtures or even upcycling or repurposing them is also kinder to the environment than buying brand new equipment. In the bathroom, you can give the space a completely different feel simply by adding a different rug, towels or shower curtain, which is not very expensive in general.
If you do find that you have to replace instead of repair the old fixtures and fittings of the property, you can also opt to buy second-hand. Getting used furnishings and fixtures instead of brand new can represent very significant savings, and so long as the goods are in a suitable condition, nobody will be able to tell that they are not new. When looking for furnishings, whether you decide to go for used or new pieces, always make sure to shop around as much as possible in order to make sure you are getting the best deal.
Financial Assistance for Home Improvement Projects
You could also be able to take advantage of government-sponsored programmes to help take some of the initial cost burden off yourself. In the UK, you're particularly likely to be eligible for financial assistance if you are renovating your property with the goal of becoming more energy efficient. If money is something which you are concerned about, this type of renovation can be one of the most advantageous for you - not only is it possible that you may be able to have some of the initial outlay covered by a government grant, it will also mean that you'll save money in the long run, as your energy bills will be significantly lower due to increased efficiency.
Energy efficiency grants can cover various works to renovate your home and improve its energy performance. This can particularly include replacing or installing insulation in your cavity walls or loft, upgrading your boiler or heating system, installing double-glazed windows and draught-proofing doors, and even upgrading to more sustainable energy sources, such as installing a solar energy system. Home improvement grants are managed by your local council and availability can sometimes be sporadic, with some councils offering more assistance than others. There are generally more energy-efficiency assistance schemes in place in Scotland than there are in England and Wales. It's a good idea to check with your local authority to see if you may qualify for an energy grant or other financial assistance to renovate your home.
DIY Renovation Work
One of the best ways to save a significant amount of money is to carry out some of the work yourself. Although this may seem daunting to the novice DIY-er, the most significant expense during a home renovation is generally labour costs, so if you can cut these out as far as possible you will be able to save a significant amount of money. Painting and wall treatments, some flooring and changing the lighting in your home may be tasks you can accomplish on your own without necessarily hiring a professional, although they may be time-consuming. However, more advanced electrical work, or anything to do with plumbing or gas must be handled by a professional. Always be realistic about your DIY capabilities, and take into account the value of your own time as well. Keep in mind that cutting corners can cost you more in the long run than hiring a skilled professional at the onset, especially if any work needs to be fixed or redone in the future. The right contractor for your home building project can be a solid investment!
Planning a home renovation project? For expert advice on how to make the most of your space and find cost-effective solutions to refurbish and modernise your home, find an architect near you at find-my-architect.com, and get your renovation project off the ground today!