Kitchen Inspiration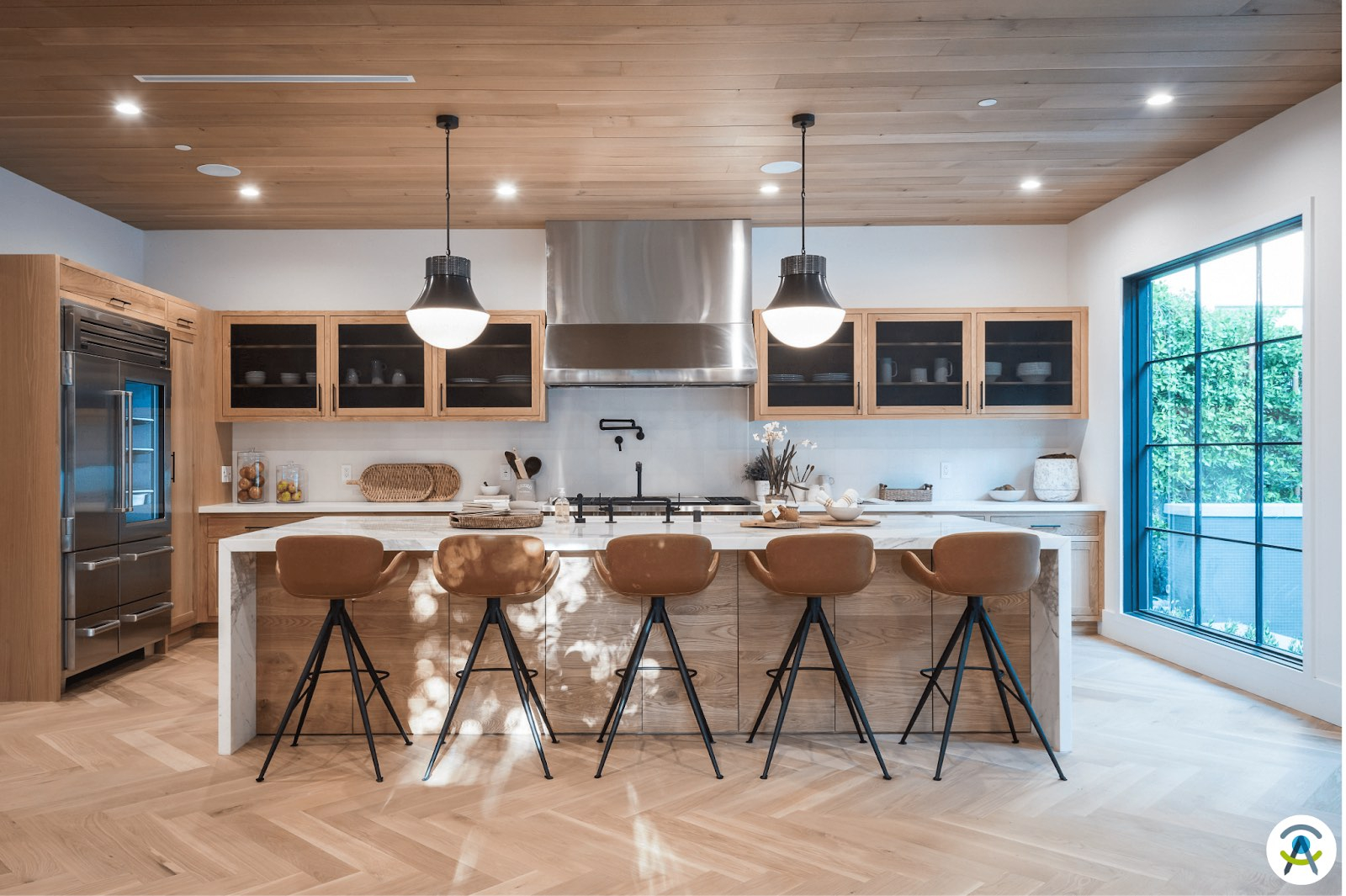 The kitchen is an essential room in your house or flat, a space that makes up a key part of your daily life. Besides the aesthetic factor, it's important for your kitchen to be arranged and built in such a way that it meets your requirements and needs. It's particularly important to have enough storage space to organise and store your kitchen utensils and appliances, to help keep your home tidy and well-organised. The more beautiful and practical your kitchen is, the more you will enjoy spending time and preparing food there. A well-designed kitchen can even lead to a healthier diet and lifestyle, offering an added benefit for your wellbeing.
Thinking about a new kitchen? Here are some architect-designed kitchens to inspire you with fresh ideas for designing, decorating and outfitting your kitchen.
This kitchen was designed by our partner architect Amos Goldreich in London. The clean, white cabinetry has a friendly, positive and inviting effect. This effect is enhanced by the large windows and the natural light they allow in. In addition, the movable light fixtures mounted on the ceiling ensure optimum light for cooking at any time of the day or night. Have a building project in London? Arrange a free initial consultation with Amos Goldreich and see more of his work here.
This living environment created by architect Jonathan Conolly, based in Tunbridge Wells, is another example of a space designed with attention to natural light. The spacious open-plan design combines the kitchen and dining area with plenty of room for a small table especially for the children.
This sleek and refined kitchen was designed by our partner architect Emily Mai Fitch and her architectural practice Bermudez + Mai Architecture. The bright white of the kitchen cabinetry and island goes perfectly with the glossy marble floor and the rest of the furnishings in the house. Thanks to the large glass doors, the focus is again on natural light for an optimal work space. See more of the architect's work here and get in touch for your building projects in Colchester!
This home interior was designed by our partner architect Jonathan Goater in Fulham, London. The architect made perfect use of the shape of the ground floor living space that reaches back to open up into the garden, with an open-plan kitchen design featuring plenty of storage space for a clutter-free environment. Discover more projects by the architectural practice Goater Jones London Ltd here.
This home was designed by architect Kevin Gilligan and the practice CEA, based in Dover, Kent. This kitchen is characterised by the use of a variety of materials with different shades and textures that complement each other perfectly.
Here is another kitchen that demonstrates how different colours and materials can complement each other and create a beautiful overall look. The blue cupboards delineate the space and provide additional storage space to make sure all kitchen utensils have their place.
This kitchen also offers plenty of storage space, with white cabinets that wrap around the space and lend it simplicity and elegance. The central island offers plenty of countertop space as well as a spot to have a quick bite or spend time together in the kitchen.
Love to cook or bake? This kitchen is an amateur chef's dream. The mix of wood, stone, marble and stainless steel give this kitchen a unique look, while the layout offers ample space to work efficiently and move around the kitchen.
Are you planning to build a house or renovate your home? It's never been easier to find the best architect in your area for your home improvement project. Get in touch at www.find-my-architect.com for a free initial consultation to get one step closer to your architectural dreams!