Hotel Design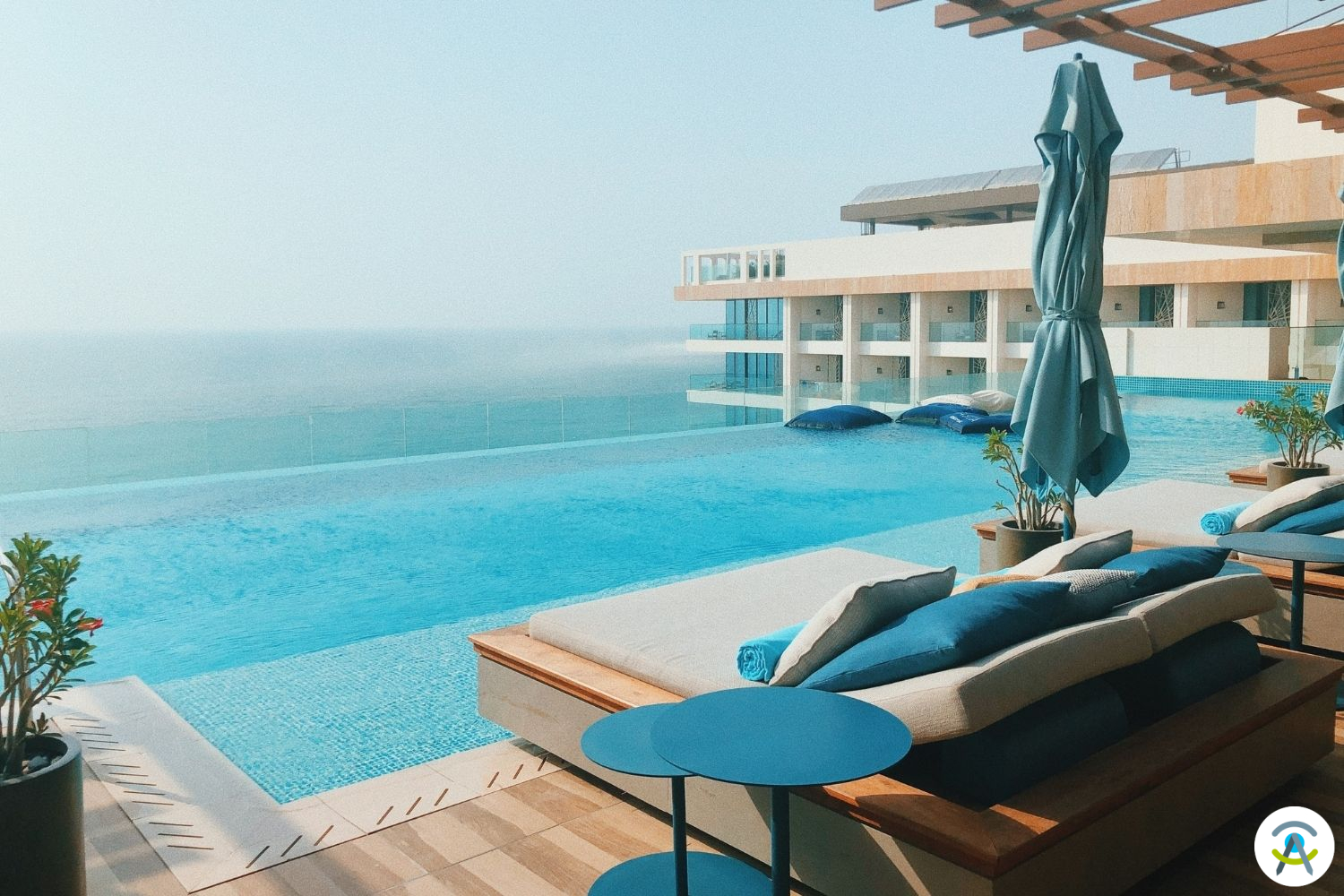 Hotels and resorts can be incredible spaces designed to make you feel at home even when you're on the other side of the world. A place that welcomes you under its roof and seeks to offer you the best possible comfort and amenities. Whether luxurious or modest, big or small, traditional or modern, hotel design should reflect the destination and the experience the hotel seeks to create for its guests.
Discover some beautiful examples of hospitality design around the world that are definitely worth a visit!
Our partner architect Luca Bentoglio from London designed this breathtaking luxury hotel with pool right next to the sea. The perfect spot to enjoy the sunshine and a relaxing holiday! Discover more of AQA Studio's work here.
This beautiful hotel reception area was designed by our partner architect Mark Kitson of the practice Kitson Architecture, based in Altrincham. The practice assisted with the complete refurbishment of the stunning Grade II listed building in Manchester, working with a team of interior designers and structural engineers to ensure a successful renewal that preserves the beauty of the prestigious space.
This picture-perfect place is the MerPerle Hon Tam Resort in Nha Trang, Vietnam. Surrounded by water, the resort offers an incredible view of the water and mountains. The architecture of this hotel is typical for this destination and perfectly reflects the tropical setting.
This "hotel" is the world's first zero-star hotel, which is found in Switzerland. The "bedroom" is a luxury designer suite in the Appenzell region. The open-air installation was created by two concept artist brothers, Frank and Patirk Riklen. What an adventure!
These two photos show the famous Marina Bay Sands in Singapore, one of Singapore's largest hotels. The lead architect of this luxurious masterpiece was Moshe Safdie.
This is the Westin Maldives Miriandhoo Resort in the Maldives. In an oval shape that somewhat resembles a fish, accommodations are lined up in a row, each looking out on the crystalline water and offering easy access to the gorgeous beach.
Set on its own private beach on Dubai's famous Palm Island, Atlantis The Palm, is a 5-star hotel in Dubai with stunning views of the Arabian Gulf.
The Ion Adventure Hotel is found in Nesjavellir, Iceland. After a day full of adventure in the mountains of Iceland, guests can enjoy the end of the day in the Silfra Restaurant, in the award-winning Northern Lights Bar or in the fantastic Lava Spa. The hotel is also sustainably built, and has even won an award!
Specialised architectural design is an important factor in creating hotels and can influence their popularity enormously. Are you planning to build or refurbish a hotel or tourist accommodations? Be creative, stand out from the crowd and create something special! Find architects specialised in hospitality architecture at www.find-my-architect.com to help you achieve your dreams for your hotel project.